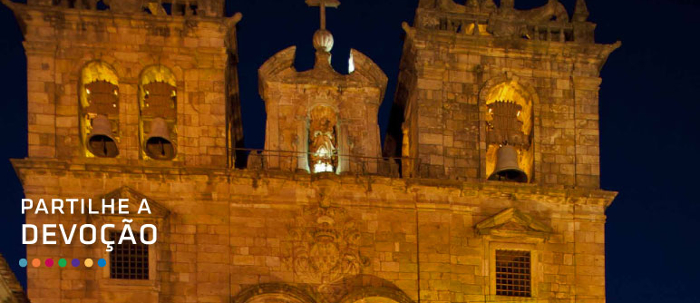 Religion is in the origin of important migratory flows in Europe and is undoubtedly one of the oldest forms of tourism. The region of Porto and North of Portugal is part of this network of destinations and Braga is the most important expression, exhibiting a most valuable artistic heritage, standing out as one of the most outstanding religious destinations in Portugal. Did you know that in the Middle Ages Braga disputed with Santiago de Compostela the title of Christianity's center on the Peninsula for being the Head of the archbishopric of the whole Iberian Peninsula? It is in the 12th century that the Santiago Pathways in Portugal acquired greater diffusion, particularly on the basis of nationality. 
These paths were traced by pilgrims on their migrations to Santiago de Compostela to venerate the relics of the apostle Santiago Maior. Did you know that the oldest Portuguese walkway is the North Way, which passes through places where São Tiago himself had been? The history and tradition of pilgrimages from Portugal to Santiago de Compostela find its bulwark in Porto and North of Portugal. Therefore, in order to welcome and provide you more comfort, this destination has been expanding the network of hostels in support of the walker.
Faith and the forms of religious devotion have left singular marks and of remarkable importance in the region and Judaism constitutes one of these expressions. Did you know that the city of Porto has the largest synagogue (Kadoorie Mekor Haim) of the Iberian Peninsula and that it was at the mount of Sé that the first Jewish quarter was located in Porto?
The pilgrimages are an inevitable part of religious experience in the North of Portugal. Did you know that the largest saint statue platform of the world belongs to Lousada and can be seen at the Festivities of Senhora da Aparecida? It is 22 meters high, weighs 1500 kg and is carried by 80 people. But there is more ... Also the saint platforms of Mouçós, in Vila Real, during the Pilgrimage of Our Lady of Pena impress the devotees and visitors also by its size and cheerful colours. The region is filled with moments of veneration and celebration. The Pilgrimage of Our Lady of Agony in Viana do Castelo, the festivities in honour of Our Lady of Remedies in Lamego, or the Holy Week in Braga, are very important milestones that bear witness to the strength of faith in Porto and North of Portugal. 
Religion and faith have also extended their hand to contemporaneity and the Church of Santa Maria, by the Architect Álvaro Siza Vieira, in Marco de Canaveses, is a beautiful architectural example and a place of devotion that deserves to be visited. 
Come to know us better and feel the strength of the Faith that has marked this region for centuries!
Itinerary:
Where To Stay?

Where To Eat?

What to do?